Everyone is going to have different requirements when it comes to packing up the bike and hitting the road. The gear you will take varies greatly depending on where you going, how long you'll be away and what time of year you are riding.
The following is a list of what I was carrying in January as I was just about to leave Portugal and head west through Spain and into France, Italy, Austria and Germany. The trip would take around 3 months.
Handlebar bag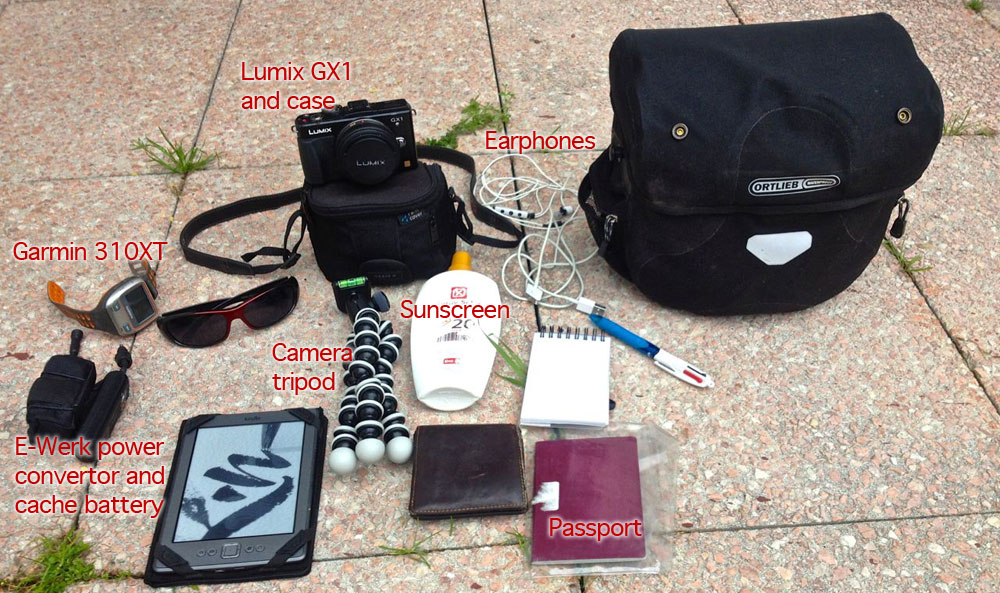 Things that I am always using are kept here Things that I am always using are kept here
My handlebar bag holds all the stuff I'll probably need access to during the day. Along with what is listed below I usually have some food to snack on while I'm riding as well. view photo of contents
Lumix GX1 camera and case
Earbuds
E-Werk power converter, this plugs into the dynamo hub
E-Werk cache battery, stores power coming out of the E-Werk
iPhone cable, this plugs into the E-Werk battery
iPhone 4S, usually inside the case
Notepad and pen
Passport
Wallet
Sunscreen
Camera tripod, I just bought this and still haven't used it on the road
Sunglasses, very cheap pair
Kindle and case
Garmin 310XT GPS, used to record my rides
Back right pannier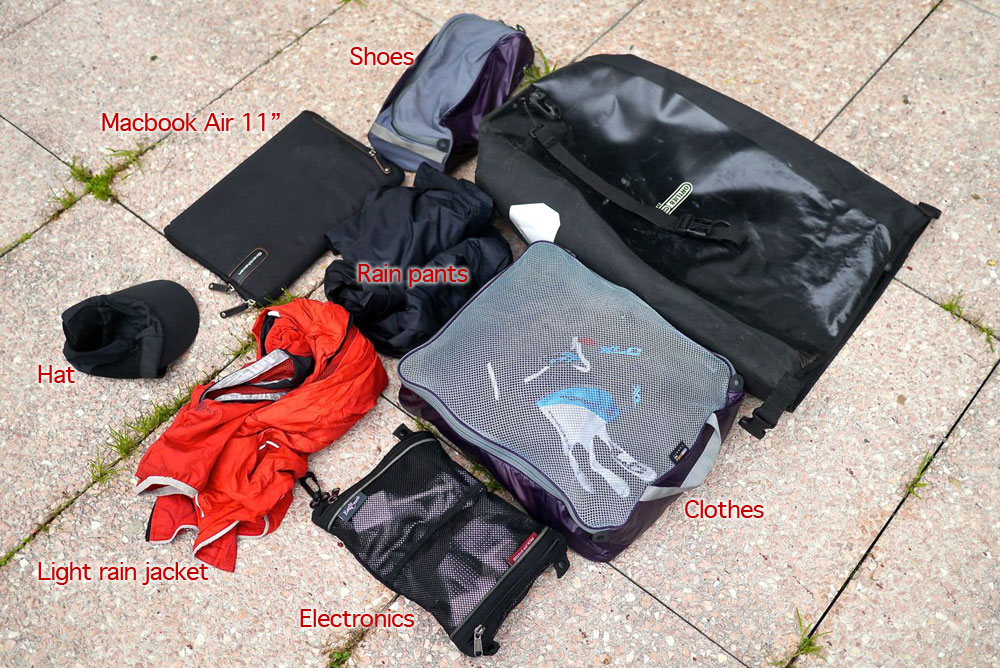 Mostly clothes in here plus some electronics Mostly clothes in here plus some electronics
I put my electronics in my back right pannier so if I get clipped by a passing car it won't destroy the computer. Also my kick stand is on the left so if my bike falls it will probably fall on the left pannier.
Packing my clothes in a small inner bag is not the most space efficient way of packing but it does make it easier to get all the clothes in and out of the pannier. Plus it means I can neatly roll up my clothes so they don't get too squashed.
My favourite piece of clothing is my pair of Merrell Trail Glove shoes. They are super light, pack down small and if I ever feel like going for a run they are great for that as well.
Clothes bag
Shoes bag, having them in a bag keeps other gear clean
Macbook Air 11 inch, perfect travel computer
Rain pants, cheap pair I can wear over shorts
Hat, again just something cheap I found
Light rain jacket, good for when it is wet or just a bit cold
Electronics, cables and chargers for various items, view contents
Back left pannier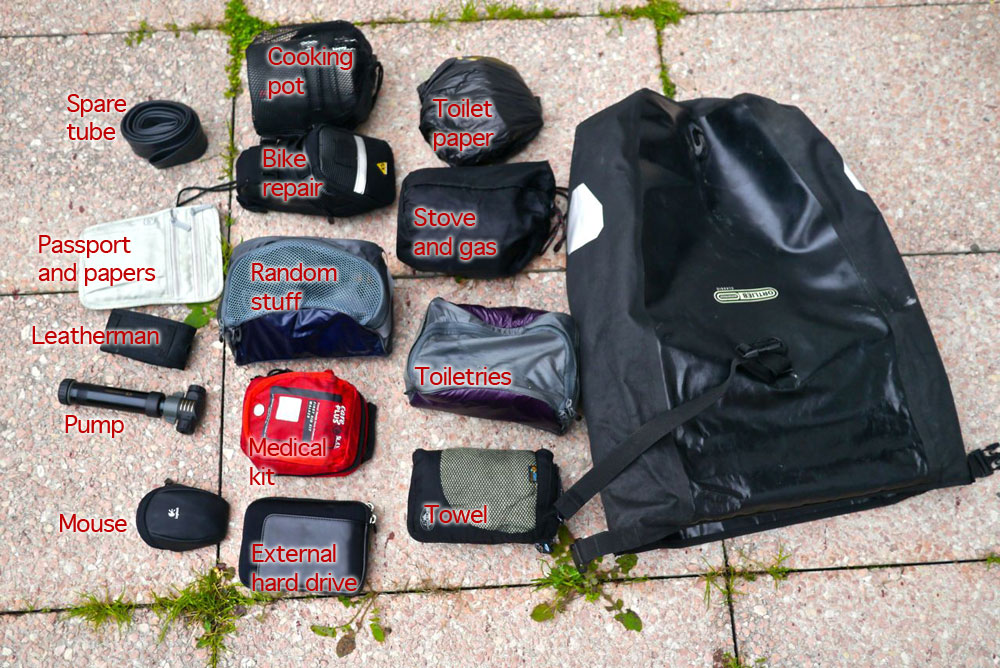 Tools, toiletries, cooking and other random items Tools, toiletries, cooking and other random items
As this pannier contains a lot of small things I've tried to keep everything grouped together inside small bags. This makes it much easier to dig through and find what ever it is I'm looking for.
I should probably be carrying more bike repair gear than I currently do but I just haven't got around to buying it. I could probably do with a few more things in the medical kit as well.
Spare tube, I usually have 2 spare
Passport and papers, currently has sim cards, receipts, insurance etc
Leatherman, great multi-purpose tool
Pump, does both Presta and Schrader valves
Mouse, compact mouse for when I'm working
Cooking pot and stove
Bike repair
Random stuff bag
Medical kit
Hard drive with computer backup, kept in a different bag to the computer
Toilet paper
Toiletries
Towel, nice a compact
Dry bag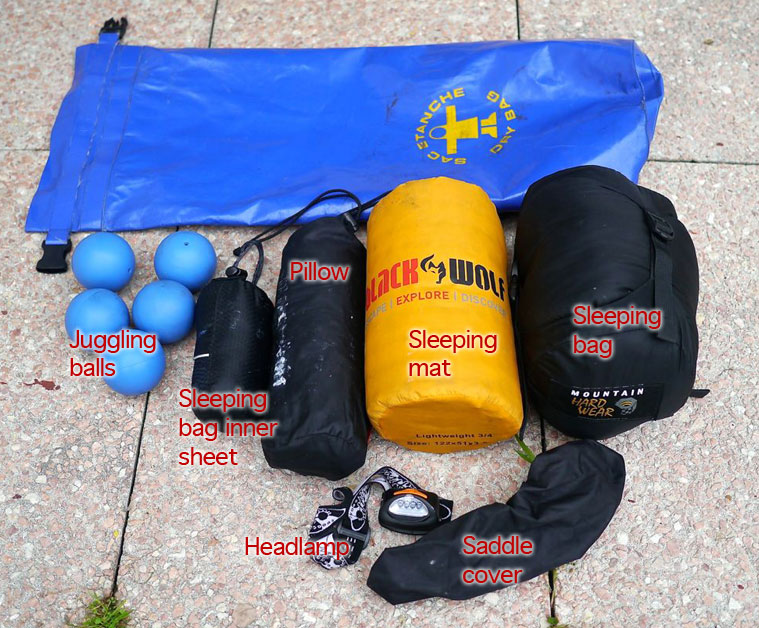 Camping and sleeping gear Camping and sleeping gear
I didn't start the tour with this bag but I picked it up along the way. Having this bag means the other bags are less full which makes them easier to dig through.
I have tried on a couple of occasions to sleep without or pillow or by stuffing clothes into a bag but it just does not work for me. The inflatable pillow is not as good as the real thing but it does the job just fine.
Sleeping bag, Mountain Hardware Lamina 35
Sleeping mat, Black Wolf 3/4 lightweight self-inflating mat
Pillow, Black Wolf self inflating pillow
Sleeping bag sheet, YHA silk
Headlamp, DMH outdoors
Saddle cover
Juggling balls, sometimes you need to entertain yourself
Front right pannier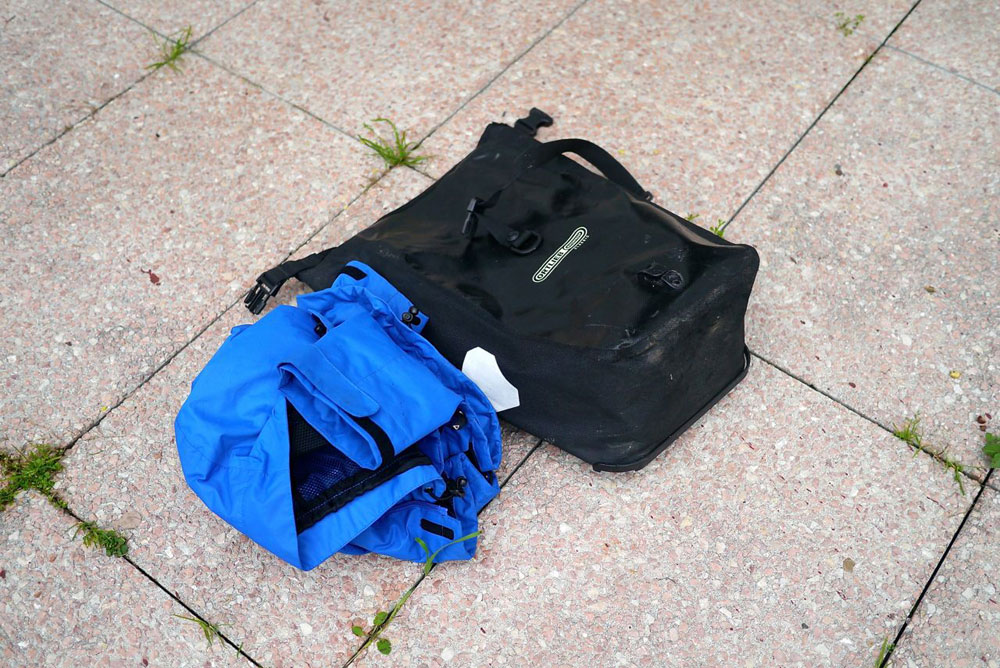 Wet weather gear and food Wet weather gear and food
Before I set off for the day I might get some clothes from the back pannier and put them in here if I think I might need them. It is much easier to access the front panniers during the day.
I try not to put too much weight in the front bags so other than the clothes I might have some food in here as well.
Jacket, McKinley rain proof jacket
Food, I didn't have any when I took the picture
Front left pannier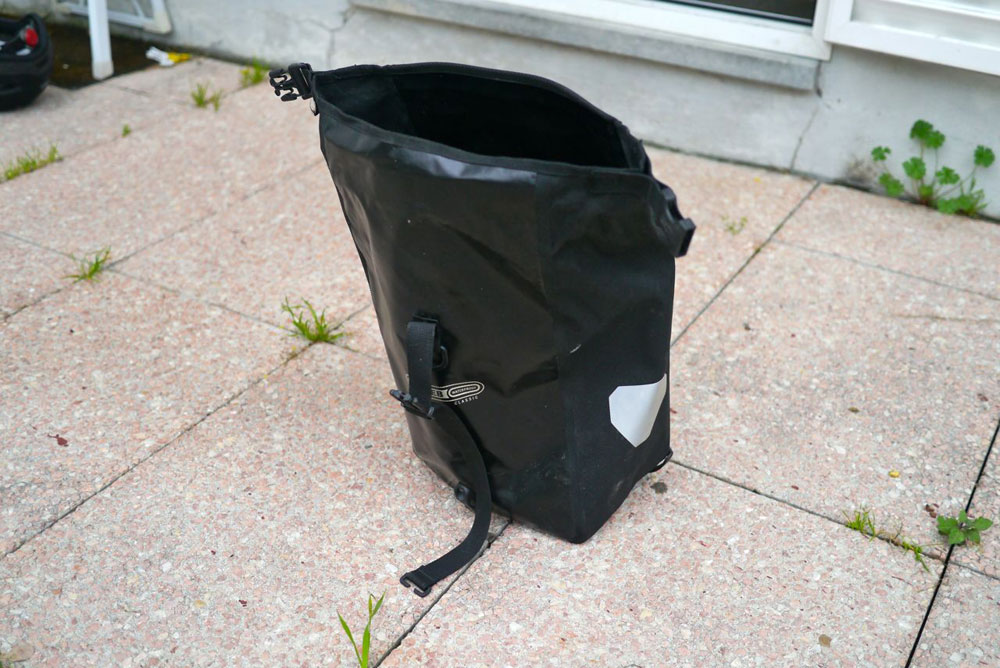 At the time I put this article together I didn't have anything in this bag at all. Normally it contains most of my food, sometimes it will also contain my cooking gear if I need some room in the back panniers.
Other items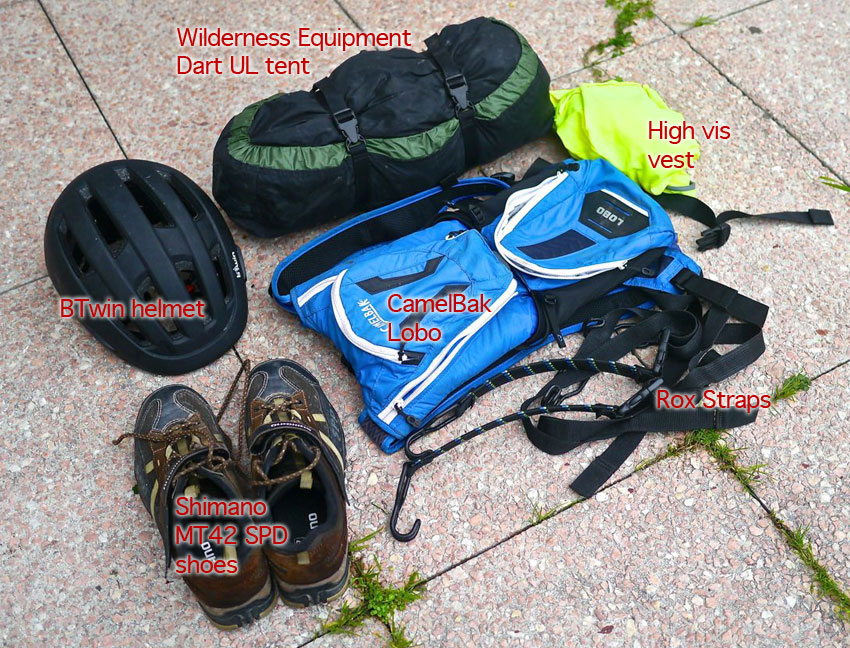 I've had my tent for a couple of years now and I love it. It is classed as a 1 and a half man tent which means I can get myself and all my bags into the tent comfortably. I would like it if it had a little bit more head room but other than that it is perfect for me.
Most other tourers I see do not ride with hydration backpack but I have found it to be great. It holds 3 liters of water plus I have a bottle on my bike so even when it is hot I can ride all day without filling up. view photo of gear
Tent, Wilderness Equipment Dart UL
High visibility vest, makes me much more visible to drivers
BTwin helmet, just a basic helmet
Shimano SPD shoes, Comfortable both on and off the bike
CamelBak, holds 3 liters of water
Rox straps, keeps the tent and dry bag on the back