I awoke early on a Saturday morning and headed downstairs to grab my morning coffee and croissant from the local café. I looked over to where my bike was locked up only to discover that it wasn't.
To be sure I wasn't losing my mind, I took a quick walk around the block to confirm that I hadn't locked up somewhere else the day before. I was almost certain that I hadn't, so as I walked I mentally put together a list of things to do next.
Find where the closest police station is
Take photos of where the bike was stolen from
File a police report (I didn't hold much hope of getting it back)
Let friends and family back home know what happened
Get back to the apartment and look for bike shops
Visit as many shops as possible to find a new bike
Lodge an insurance claim through my travel insurance
It's funny, I don't remember ever being really upset when it happened; I was more concerned with what had to happen next. I had spent a long time and a decent sum of money getting that bike put together just the way I wanted. Although I had owned the bike for about 2 years, the only real touring I had done with it was the 2 previous weeks travelling from Geneva to Paris.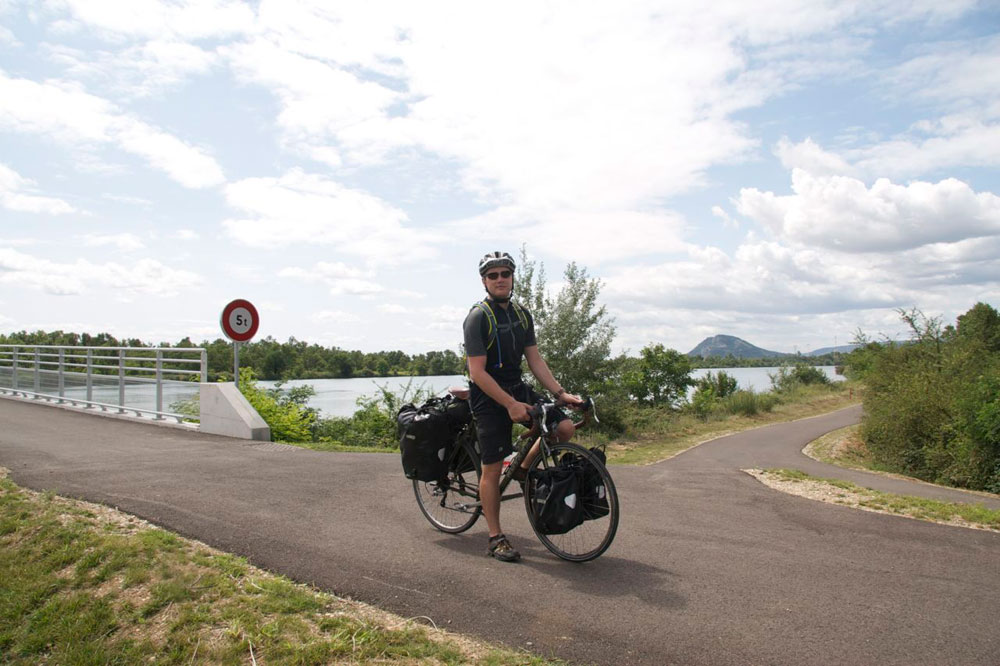 Once items 1 to 5 on my list were done, I took a trip (on foot) to a few of the local bike shops. A couple of them were closed as this time of year many businesses go on holidays (just my luck) and the other few I went to didn't have any touring specific bikes on offer. Over the next week I went from shop to shop and had a real hard time finding anything that looked like it would do the job.
I then found a small shop that specialises in classic bikes and as I'm a sucker for an old fashioned steel frame bike I pick one from the show room floor that was really nice. I took it for a ride and it was just the right size and rode really well, so I decided to buy it. It needed a few additions like front and rear panniers as well as stronger wheels, but after a couple more days it was all setup and ready to go.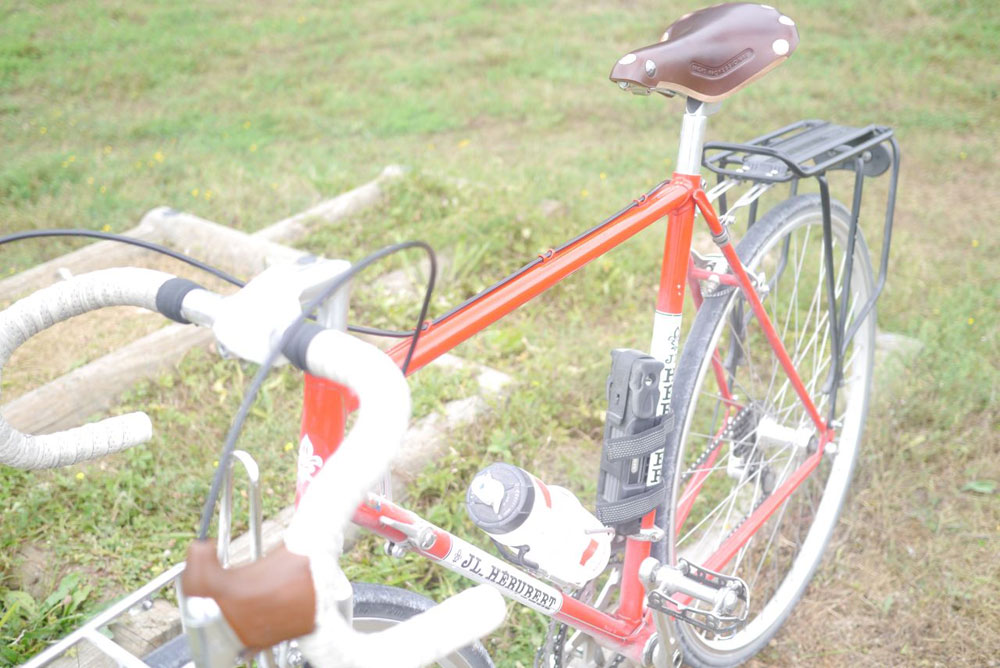 I set off from Paris with the bike fully loaded. The bike felt much less sturdy than my last touring bike, but as this was closer to a racing frame, that was to be expected. I had trouble with the pedals as well. Before I bought the bike, I asked the guy if I could change the pedals so I could clip my shoes in and he said it wouldn't be a problem. Well it was a problem - the bike had non-standard thread sizes, so I couldn't swap them out.
Due to the frame size I also had to put thinner tyres on the bike. I didn't think that would be a problem, as most of my touring was on the road thus far. After three days riding towards Amsterdam and a fair bit of rough riding, I already had three flat tyres - which is really quite ridiculous. Not having clipped-in shoes was getting annoying as well.
As the frustration grew, I started to get the feeling I had made a big mistake in choosing this bike for my next 4 months of touring. If you don't have confidence in your bike on a tour, it makes it very difficult to enjoy. Before making any rash decisions, I stopped for a night in a hotel in the town of Meaux to think about my options.
If you don't have confidence in your bike on a tour, it makes it very difficult to enjoy
The next morning I was a bit calmer and I had made the decision to continue with the bike, but just take it a bit easier. Before setting off I went into town to grab some food, leaving my bags at the hotel. My bike wasn't even loaded up with weight, but as I rolled my bike up a gutter, I got another flat tyre! That was the last straw. I decided to head back to Paris to get another bike.
The next day I got a train to Paris, got a campsite just outside the city, and called the place where I got the bike. The guy I bought the bike from said he wouldn't refund the bike as he sold it second hand and was really unhelpful, even though he must have known I was frustrated at this point. Maybe I should have pushed him more to take the bike back, but I just wanted to move on at this point.
On my way back to my campsite I rode past a shop called Rando Cycles. It had a window full of touring bicycles, all of which were absolutely perfect for my ride. I wish I had found this shop earlier. The shop was closed for holidays (more bad luck) and wouldn't be open for another week and a half. To make the most of a bad situation I checked into the campsite for another week, and spent the time riding around Paris, visiting museums, and doing some work.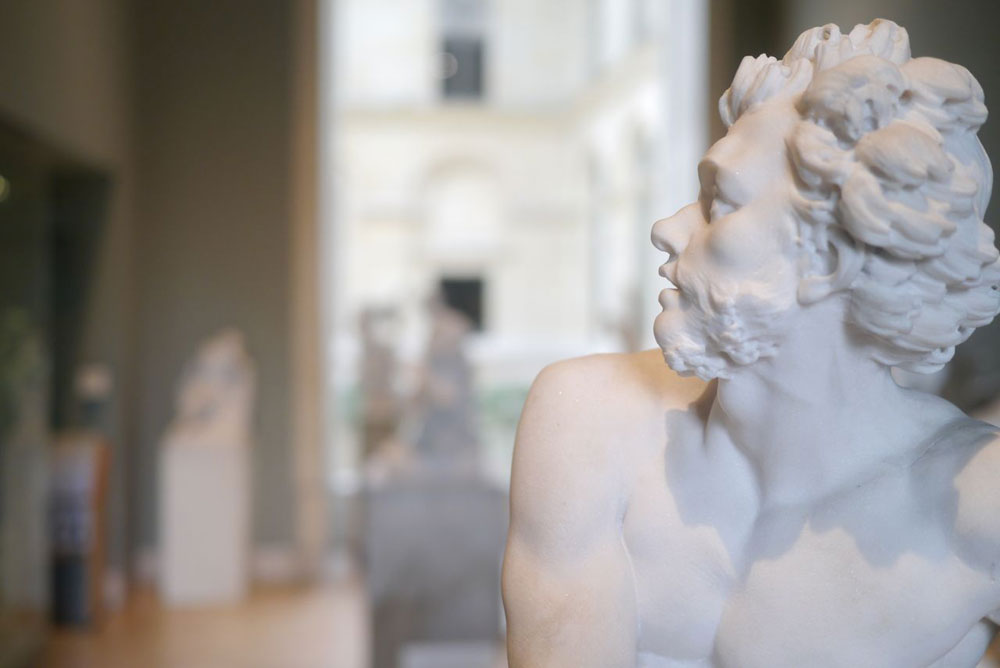 The day Rando Cycles came back from holidays I was there early in the morning and explained what I needed. The guy there was super helpful and knew exactly what I was after. He pointed me straight towards a brand new Surly Long Haul Trucker. I had seen the Long Haul Trucker before and it's definitely a sturdy touring bike. It has a steel frame, fat tyres, comfortable handlebars and I was even able to get a dyno hub for a bit of extra money.
As you may have guessed, nothing about this story comes easy for me. I had to wait another week until it would be ready. So another week in Paris it was. This time I checked into a small cabin at the campsite, as I was a bit sick of being in my 1 man tent for so long. More sightseeing, more work, and more time in the city that stole my bike.
I finally got the bike, loaded it up and took it for a test ride. It was perfect. It felt really solid, I could clip my shoes in, I had a dyno hub to generate power and on top of all that it looks pretty slick as well. The guys from Rando Cycles even agreed to sell my current bike and take a cut of the sale price, so I don't have to worry about selling it.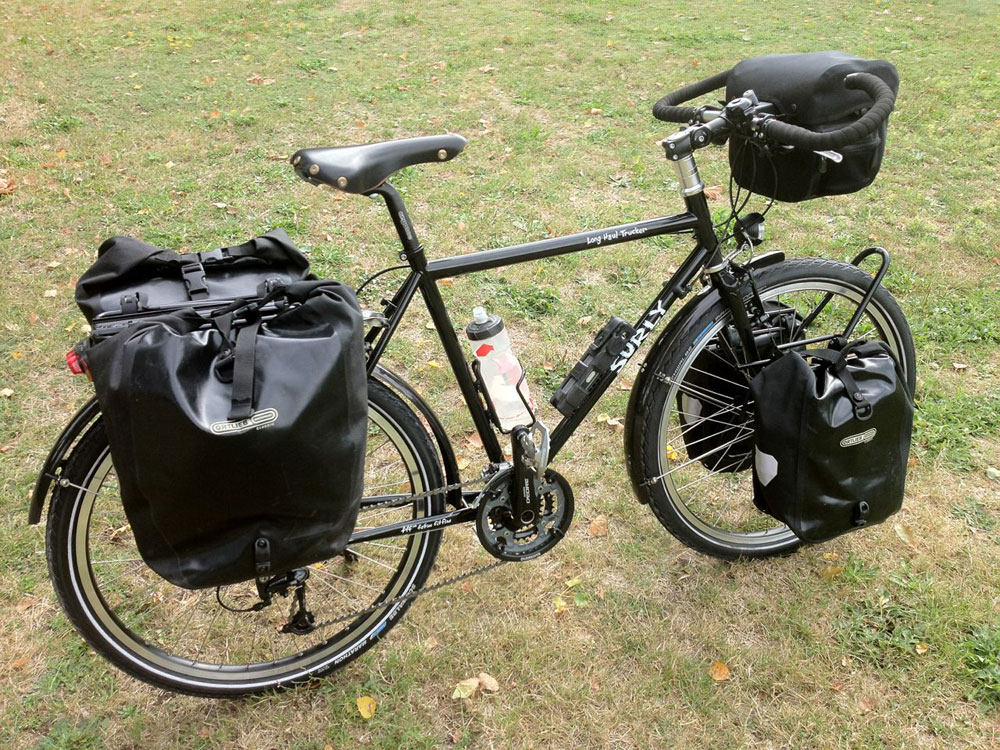 So in summary, I had my custom bike stolen, I bought the wrong bike (which still hasn't sold), I bought the right bike (which has been great ever since) and I've enjoyed my tour to this day. The lessons learnt are the following:
When renting a place while on tour, always have a place to lock up your bike off the street, especially in cities
Having a good bike that's built for touring makes all the difference
Don't rush into a big buy decision while on the road
If you are in Paris and need a touring bike, go to Rando Cycles